THE BIGGEST CZECH AND ONE OF THE EUROPEAN VEGAN EVENTS
NEJVĚTŠÍ ČESKÉ A JEDNY Z NEJVĚTŠÍCH EVROPSKÝCH VEGAN EVENTŮ
ORGANIZED BY VEGAN FIGHTER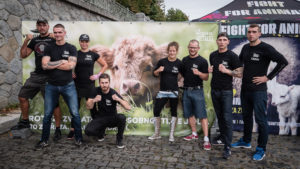 Jsme profesionální sportovci, zabýváme se hlavně bojovými sporty. Rádi bychom vás inspirovali k životnímu stylu, který nám osobně dává možnost, jak být ve výborné formě, a zároveň být ohleduplní ke zvířatům – ta jsou pro nás osobnosti, ne jídlo. Těšíme se na vás!
We're pro-sport/wo/men, mostly Muaythai and MMA fighters and we're vegans. Our events are the way how we wish to inspire you to a plant-based lifestyle. For us, it is veganism that is the best way not just for ours wins and great fitness but for more important responsibility and respect towards animals. They deserve to be treated as very inspiring beings, not as a food.
We're looking forward to seeing you at our events!
Vegan Fighter Crew
SEND US MESSAGE / NAPIŠ NÁM